Are you always wondering how our world works? Give Google a rest and invest in a How It Works magazine subscription! Designed for inquisitive minds with an insatiable thirst for knowledge, How It Works magazine educates, engages and enlightens readers who want to know absolutely everything. Jam-packed with science, technology, transport, space and history features, a How It Works magazine subscription will spark your interest in seconds. Be captivated with the awe-inspiring images and heaps of interesting and wonderful facts and stats.
Subscribe today for a month's worth of fantastic features to keep you busy until the next issue!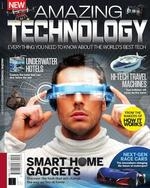 Free Book of Amazing Technology worth £9.99
Discover the amazing tech innovations that could one day change the world, and those that already have. From next-gen movie FX to the cars of tomorrow, explore how we'll live next!
(UK subscriptions only. Whilst stocks last. The bookazine will be posted to the billing address and can take up to 6 weeks to arrive.)
Instant Access when you subscribe
Get instant digital access to the latest issue to read immediately while you wait for your first print edition to arrive
How It Works Magazine
subscription offers
FAQ
How much is
How It Works
magazine?
Subscriptions start from £5.00 for 3 Issues
How often is
How It Works
magazine published?
13 times per year
How can I buy
How It Works
magazine?
How It Works magazine can be bought right here on magazine.co.uk by either credit card or direct debit
How many issues of
How It Works
magazine are published each year?
13
Who publishes
How It Works
magazine?
Future Publishing