A National Geographic magazine subscription delivers adventure; a truly breathtaking glimpse into the wild and wonderful nature of the world around us. From the idiosyncrasies of far-flung countries and cultures to astonishing discoveries under the microscope, National Geographic harnesses powerful, award-winning photography with captivating features for the aspiring adventurer in us all.
Join a global readership of 6 million subscribers with a monthly National Geographic magazine subscription today. You'll also receive a membership to National Geographic - proceeds from your membership support vital work and educational programs in research and conservation around the world.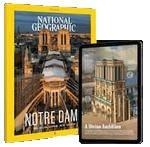 Subscribe today and get FREE digital access for iPad, iPhone and Google Play and access to every page of every issue since 1888 in the National Geographic digital archives.
National Geographic Magazine
subscription offers
FAQ
How much is
National Geographic
magazine?
Subscriptions start from £33.00 for 12 Issues
How often is
National Geographic
magazine published?
12 times per year
How can I buy
National Geographic
magazine?
National Geographic magazine can be bought right here on magazine.co.uk by either credit card or direct debit
How many issues of
National Geographic
magazine are published each year?
12
Who publishes
National Geographic
magazine?
National Geographic Partners