British Travel Journal
British Travel Journal magazine is committed to providing you with all there is to know about Britain's most beautiful and unique getaway spots. With trustable advice on luxurious stays, breathtaking scenery and exhilarating activities, British Travel Journal magazine is your ultimate guide to discovering the natural wonders of England, Wales and Scotland.

Each issue of British Travel Journal magazine is packed full of inspiration of every kind in order to help you envisage your ideal getaway. The stunning imagery in each issue captures the raw beauty of Britain whilst the expertly-written articles will offer you credible insight into the fantastic experiences that this small but mighty island has to offer.
Join British Travel Journal magazine today and learn about the many wonderful opportunities that Britain has to offer!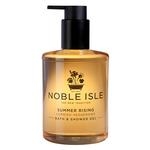 Receive 3 issues of British Travel Journal plus a Summer Rising Cornish Hedgerows Bath & Shower Gel from our friends at Noble Isle. Worth £22
TERMS & CONDITIONS: Offer available to UK subscribers only. 'Annual Subscription plus Noble Isle Gift' offer only.
Christmas Gift Subscription
Saving £0.25
£20.00
British Travel Journal
subscription offers