London Review of Books Magazine Subscription
London Review of Books is Europe's leading magazine of culture and ideas and is perfect for anyone with a passion for literature, politics, history, philosophy, poetry, biography, opinion pieces, film and the arts. The most widely-circulated literary magazine in Europe, London Review of Books publishes book reviews and topical articles by leading thinkers and writers.
Readers of the London Review of Books have come to expect inspired matches of writer and subject. Often provocative and always original, LRB writers do more than just review books, they use recently published books as a catalyst to interrogate and analyse world culture; the end point is a collection of independent, originally-crafted essays.
Join the thousands of London Review of Books subscribers today with an annual magazine subscription, published twice-monthly. Plus, enjoy FREE access to the LRB app, so you will never be without the latest issue - granting you full access to the entire, searchable online archive, containing over 17,00 pieces.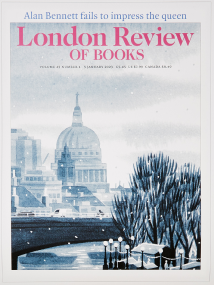 FREE GIFT - London Review of Books 2024 Calendar with your subscription!
(Excludes trial offer. Gift sent to the billing address.)
Trial Offer - 12 issues for £12.00
Saving £59.88
£12.00
London Review of Books Magazine Subscription offers