Looking for sharp minds, quick-witted journalism and passionate debate? Get your teeth sunk into a subscription of Prospect, the ideal magazine for those looking for independent yet informed opinions on the news of today. How do we tackle the climate crisis? What will happen to employment after coronavirus? What are the next steps for Brexit Britain? Explore these topics and much more in our pages, including the latest on books and contemporary culture.
Grab a Prospect magazine subscription and be the first to understand the big ideas that are shaping our world.
Choose from one of the following offers: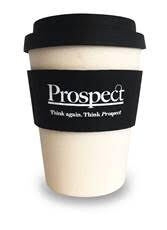 FREE GIFT - The Prospect reusable coffee cup
E-coffee cups are made with natural fibre, corn starch and resin. The lid and sleeve are made with matte, food-grade silicone which is latex-free and designed especially for hot liquids. The whole product is dishwasher safe and should last for years if treated nicely.
(Excludes Father's Day Offers)

Father's Day Offer - Get a free Moleskine PRO Project Planner worth £24.99 with your subscription!
(Valid for offers marked as 'Father's Day Offer' only. While stocks last.)
Prospect Magazine
Trial Offer - Print & Digital Edition
Saving £14.85
£3.00
Free Gift Details
FREE GIFT - Prospect reusable coffee cup
Prospect Magazine
subscription offers
FAQ
How much is
Prospect
magazine?
Subscriptions start from £3.00
How often is
Prospect
magazine published?
10 times per year
How can I buy
Prospect
magazine?
Prospect magazine can be bought right here on magazine.co.uk by either credit card or direct debit
How many issues of
Prospect
magazine are published each year?
10
Who publishes
Prospect
magazine?
Prospect Publishing Ltd