Science+Nature is a brand new, monthly magazine from the award-winning team behind The Week Junior.
Every issue is packed with incredible content — from superhumans and the secrets of forensic science, to Nasa solar missions, the science of exploding buildings, and the low-down on extraterrestrial life. It will ignite curiosities and feed hungry brains with mind-blowing facts and stories.
Publisher message: Please note that all subscriptions for this title (Trial Offer excluded) will commence after Christmas.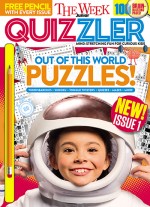 SPECIAL OFFER – Every gift subscription includes a copy of The Week Junior Quizzler. Bursting with brain-bending puzzles, teasers, quizzes, fascinating facts and more!
TERMS & CONDITIONS
With UK subscriptions, whilst stocks last. Excludes trial offer.
Science+Nature Magazine
Trial Offer - 3 issues for £5.00
Saving £5.47
£5.00
Science+Nature Magazine
subscription offers
FAQ
How much is
Science+Nature
magazine?
Subscriptions start from £5.00
How often is
Science+Nature
magazine published?
12 times per year
How can I buy
Science+Nature
magazine?
Science+Nature magazine can be bought right here on magazine.co.uk by either credit card or direct debit
How many issues of
Science+Nature
magazine are published each year?
12
Who publishes
Science+Nature
magazine?
Dennis Publishing