Love tech? Informed and intellectual, a WIRED magazine subscription will stretch and stimulate your mind on a feast of different topics, images and features brimming with thesis, facts and figures. Want to hear the latest news on current affairs, from culture and politics to technology, architecture and design? Learn, engage and be inspired by a magazine published to entertain with informative, innovative perspectives to bring you the latest in world-changing news and interviews from around the world.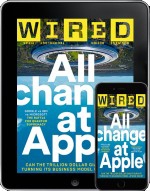 Limited Time Offer - Buy a WIRED magazine print subscription today and get FREE digital editions.
Available on iPad, iPhone, and across all devices on Google Play.

Wired Magazine
Annual Subscription
Saving £10.94
£19.00
Free Gift Details
FREE digital editions
Wired Magazine
subscription offers
Subscription
Issues
RRP
Saving
Payment
Our Price
Annual Subscription
6
£29.94
Save £10.94 (37%)
Christmas Gift Subscription Offer
6
£29.94
Save £10.94 (37%)
FAQ
How much is
Wired
magazine?
Subscriptions start from £19.00
How often is
Wired
magazine published?
6 times per year
How can I buy
Wired
magazine?
Wired magazine can be bought right here on magazine.co.uk by either credit card or direct debit
How many issues of
Wired
magazine are published each year?
6
Who publishes
Wired
magazine?
Conde Nast