Conde Nast Traveller Magazine Subscription
Love travelling in style or being the first to know about where to go this season? Grab a Condé Nast Traveller magazine subscription – the stylish traveller's bible for the most enviable holidays, short breaks and city trips on anyone's agenda. With emphasis on authentic experiences with exclusive secrets from travel writers and well-travelled individuals around the world, Condé Nast Traveller is a travel magazine you can trust,reporting on holidays as they are with their 'no press trips, no freebies' policy. Discover the latest places to visit with new airports and routes, as well as dream holidays you've always had on your list.
The world's your oyster with a Condé Nast Traveller magazine subscription! Got a travel-loving friend or family member? Why not treat them to a gift subscription and give the gift of inspiration all year round?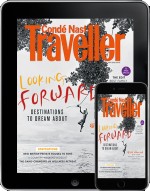 Free gift - Buy a Conde Nast Traveller magazine print subscription today and get FREE digital editions.
Available on iPad, iPhone, and across all devices on Google Play.

6 issues for £9.00
Saving £20.70
£9.00
Free Gift Details
FREE digital editions
Conde Nast Traveller Magazine Subscription offers