MoneyWeek Magazine Subscription
MoneyWeek magazine is the must read financial title for anyone who wants to make more from their money and protect their wealth. As the UK's bestselling financial magazine, Money Week is packed full of sound financial advice, hot stock tips and the latest economic news from the UK and around the world.
Delivered direct to your door, a MoneyWeek magazine subscription will bring you all the information you need and want every single week. Share tips, stock charts, news and advice, you will find it all in an easy to digest weekly roundup of the financial stories that matter.
MoneyWeek publishes one double issue which counts as two of the 52 issues in an annual subscription.
Publisher message: Please note that subscriptions marked as a Christmas Gift will commence in January 2024. All non-Christmas offers wil start with the next available issue.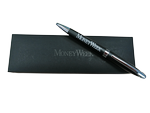 FREE GIFT - MoneyWeek pen with marked Chirstmas gift orders.
Please allow 30 days for gift delivery.
Trial Offer - 6 issues for Free (Print Only)
Saving £27.00
£0.00
MoneyWeek Magazine Subscription offers