A friendly informative read for any dog lover, a Your Dog magazine subscription is sure to get tails wagging! Filled with everything you need to know about our favourite four-legged friends, this is a glossy that will help you and your pet find balance with tips on training, tricks and making sure your dog is as happy and healthy as can be. With breed profiles to help you choose the dog for you as well as understand your dog's strengths and weaknesses, it's the perfect resource for any responsible dog owner committed to making sure their dog is well trained and as happy at home as he is outside, too.
Pick up the paw-fect gift for man and dog with a Your Dog magazine subscription (or treat a dog-mad friend or family member to the magazine that loves dogs as much as they do)!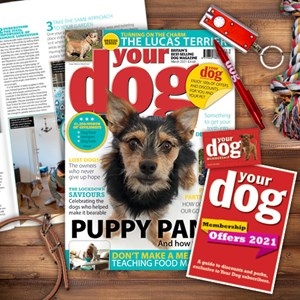 Free gift subscription pack (worth £30) with all Direct Debit orders - gift pack includes a Your Dog Membership Card & Booklet + FREE Your Dog Pen, Keyring Torch, and Foldaway Shopping Bag.
Your Dog Magazine
12 issues for £39.99
Saving £15.21
£39.99
Free Gift Details
Your Dog Subscription Gift Pack (worth £30.00)
Your Dog Magazine
subscription offers
FAQ
How much is
Your Dog
magazine?
Subscriptions start from £39.99
How often is
Your Dog
magazine published?
12 times per year
How can I buy
Your Dog
magazine?
Your Dog magazine can be bought right here on magazine.co.uk by either credit card or direct debit
How many issues of
Your Dog
magazine are published each year?
12
Who publishes
Your Dog
magazine?
Warners Group