Grand Designs magazine is the award-winning official monthly publication to accompany the hit television show hosted by presenter Kevin McCloud and broadcast on Channel 4 and More4. It's the perfect read for anyone who is building, renovating or improving their home. Filled with a mix of real homes which are inspiring and informative, including TV house exclusives, practical project guides, the latest design ideas, kitchen and bathroom planning advice and much more. In every issue of Grand Designs magazine, you'll discover expert advice from across the architecture and homebuilding industry, giving you guidance at every stage of the design and build process.
Pick up a Grand Designs magazine subscription today and be inspired to get your building and renovation projects off the ground!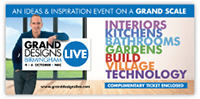 Plus get a FREE ticket to Grand Designs Live show worth £20.00*
*2 x tickets with every annual subscription (1 ticket for the London show and 1 ticket for the Birmingham show)
Instant Access when you subscribe
Get instant digital access to the latest issue to read immediately while you wait for your first print edition to arrive
Grand Designs Magazine
subscription offers
FAQ
How much is
Grand Designs
magazine?
Subscriptions start from £3.00 for 3 Issues
How often is
Grand Designs
magazine published?
13 times per year
How can I buy
Grand Designs
magazine?
Grand Designs magazine can be bought right here on magazine.co.uk by either credit card or direct debit
How many issues of
Grand Designs
magazine are published each year?
13
Who publishes
Grand Designs
magazine?
Media 10 Ltd