Your Cat is the must-have magazine for all cat lovers and owners if you have feline friends, or know someone who is cat crazy, then a subscription is essential.
As well as practical content, Your Cat also delivers entertaining and emotive features and interviews, from real life reader stories to true cat tales, fictional exclusives from leading authors, Chris Pascoe's hilarious Confessions of a Cat Sitter column, cat-owning celebrity interviews and much more.
Take out a subscription to Your Cat magazine today and save money on cover price delivery is free!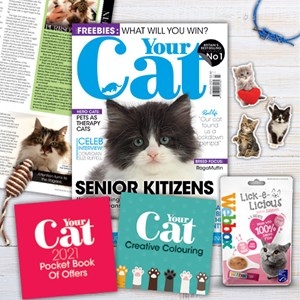 Free subscription gift pack (worth £20) with all Direct Debit orders - free pack includes a discount booklet, a creative cat colouring book, a Your Cat pin badge, and some Webbox lick-e-licious cat treats!
Your Cat Magazine
12 issues for £39.99
Saving £15.21
£39.99
Free Gift Details
Your Cat Subscription Gift Pack
Your Cat Magazine
subscription offers
FAQ
How much is
Your Cat
magazine?
Subscriptions start from £39.99
How often is
Your Cat
magazine published?
12 times per year
How can I buy
Your Cat
magazine?
Your Cat magazine can be bought right here on magazine.co.uk by either credit card or direct debit
How many issues of
Your Cat
magazine are published each year?
12
Who publishes
Your Cat
magazine?
Warners Group